Moon-like beauty
When it comes to interior design, it's the details that make all the difference. At Muubs, we've created something truly special with Luna - a moonlit beauty that inspires creativity and mystique.
The Luna collection is inspired by the magical surface of the moon and radiates the same mystery and beauty. The name "Luna" means "moon" in Latin, and it is precisely the structure of moon craters that has formed the basis for the Luna jars.
Styling with Luna: Inspiration from the Moon
Luna jars are more than just decorative elements; they are a source of inspiration. Here are some creative ways you can style your Luna jars to add elegance to your home:
1. Moonlit flowers: Luna jars are ideal for displaying flowers, but remember to place another container inside the jar that can withstand and hold water if you want to put fresh flowers in it. This will protect the terracotta. You can choose brightly colored flowers to contrast with Luna's natural tone or go for a cleaner look with white flowers.
2. Succulents and plants: If you want to plant directly in the Luna jar, it should first be lined with plastic to protect the beautiful surface of the handmade jar. Succulents and other rustic plants look beautiful in these jars and create a harmony between the natural and the artistic.
3. As decorative elements: Even without contents, Luna jars are a beautiful decoration in themselves. Place them on shelves or as an eye-catching element on your coffee table to add a touch of artistic beauty to your space.
Unique craftsmanship
Each jar in the Luna collection is handcrafted in terracotta and expresses the tactile texture that defines Muubs' products so exquisitely. Creating these jars requires special craftsmanship - the paint is applied, and a coating is carefully hand-burned with a gas flame to achieve the tactile and storytelling surface.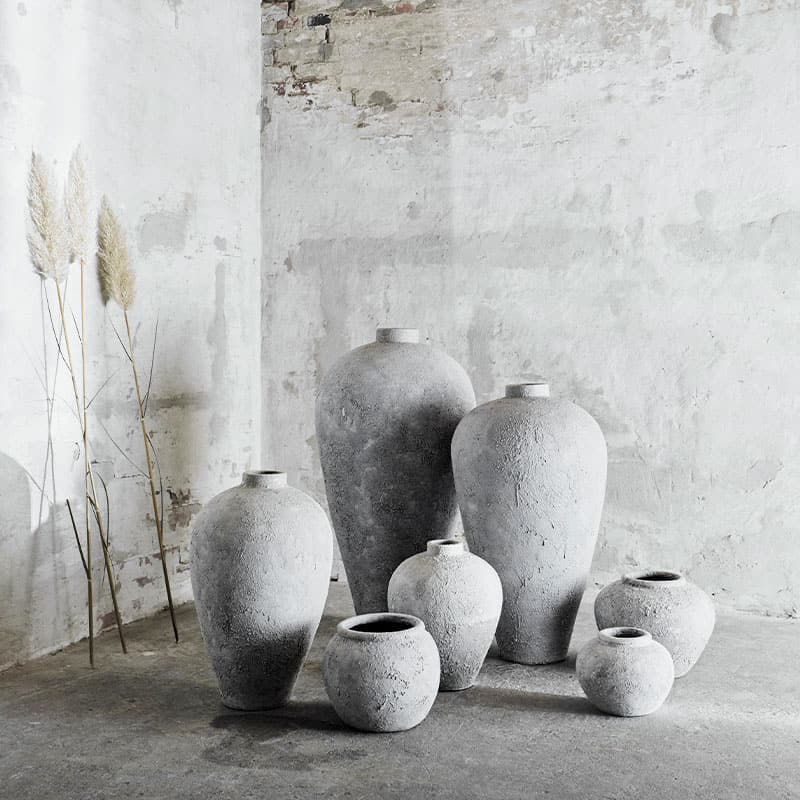 Moonlight in your home
Imagine a clear night sky where the moon shines brightly, and you can see the fine moon craters. Then take a look at the surface of the Luna vase and let your thoughts wander to the raw and unpolished lunar landscape. Let Luna jars light up your home and let them tell the story of moonlight, mystery, and beauty in your personal space. Luna is more than just a decoration; it is a source of inspiration and a reminder of the beauty in the natural and unique.